Before the sun rises, they set up a bulwark for abortion. Toronto Hancock and Kim Gibson are here almost every day. They work as volunteers. Their goal: to go with the women to the clinic in Jackson. "I like to be there when patients come, because protesters often come at 7am," Toronto Hancock explains. They set up a visual barrier between the parking lot and the entrance to the hospital.
Frightened patients
After a while, there are anti-abortionists: strictly religious Christians. They stop cars trying to pull into the clinic's parking lot and try to prevent women and their companions from having an abortion – or abusing them with words. "Shame on you, baby killer! Alas, murderer," a tall man with sunglasses and a beard calls out again and again.
"They don't belong in the clinic!" Toronto shakes Hancock cars and tells women to ignore protesters. "It simply came to our notice then. Some are crying. Usually it is not because of her decision to have an abortion, although for some it is a difficult decision. But because they are afraid. "
To drown out the insults, medical assistants direct the music. But anti-abortionists are bringing a megaphone. So this gruesome scene in front of the abortion clinic happens everyday.
Civil rights activists fear sanctions
The protesters also insulted the clinic staff. Abortion doctors fly in from other US states for a few days. None of the Mississippi-based gynecologists perform abortions.
For women, it's a successful run. Kim Gibson is angry at the protesters. "Women come to a legal, certified clinic, and then they encounter this crazy circus here. Women often come from far away, even from neighboring states, so they need a safe place for medical treatment because they have no chance of abortion, where they will not be persecuted."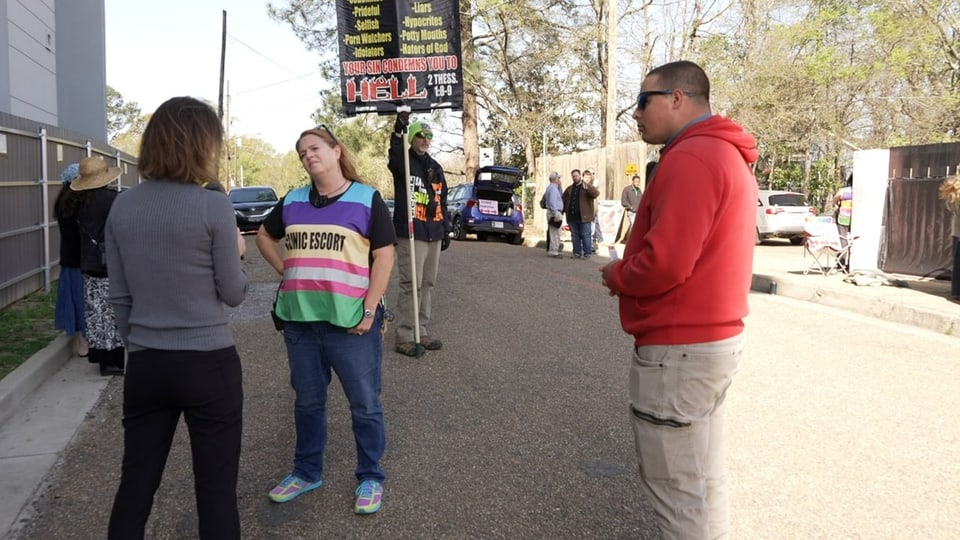 It is the only abortion clinic in the state of Mississippi. But it is not clear if it can continue – and in many other states.
Civil rights activists fear that the new Conservative majority in the US Supreme Court will completely overturn the previous liberal case law. According to the leaked draft of the ruling, the conservative majority wants to abolish abortion rights. If the final verdict is true, states can restrict abortion – or even ban it altogether.
Judgment may revoke freedom of abortion

Open box
Close the box


The U.S. Supreme Court ruling is expected in the summer, making it extremely difficult for millions of women in the United States to gain access to abortion. Abortion has been legal in the United States since 1973. U.S. Supreme Court Wade decided.
Since then, liberal judicial abortion has been legal for about 23 weeks and should not be unfairly regulated by state law. But recently, there have been a majority of conservative judges on the court. The draft verdict was leaked to "Politico" magazine. Accordingly, the conservative majority Roh v. Calf.
Mississippi passed legislation banning abortions 15 weeks later. The abortion hospital has appealed to the Supreme Court against this law. Roin Court v. Wade clarifies to states the way to prevent abortion, in whole or in part.
"Row v. Wade" is the name of the ending because the name of the 22-year-old plaintiff at the time was Jane Rowe who was named in the files to protect his name from anonymity. The opponent of the state of Texas was the then Dallas District Attorney Henry Wade.
Vara Lyons is a policy consultant at ACLU Mississippi, a civil rights organization. "If Mississippi wins this case, other states will follow suit." The GoodMatch organization estimates that 26 conservative states will ban abortion if the Supreme Court allows it.
Poor women in particular are affected
About two dozen Conservative states have already passed abortion bans that will take effect immediately after the Supreme Court ruling. "For a state like Mississippi, with a high poverty rate, it becomes too expensive for many women to travel to abortion," Lyons says.
There is no compromise for fundamentalists in front of the hospital. They do not accept Mississippi law or the Supreme Court. Gabriel Olivier says: "As a Christian, I demand that women and doctors be held accountable for killing children. God says that murderers deserve to die.
"Amateur coffee fan. Travel guru. Subtly charming zombie maven. Incurable reader. Web fanatic."