Mozilla has released Firefox 93 for Windows, Apple macOS, and Linux. After a slight update to Firefox 92 four weeks ago, Firefox 93 has all the most exciting new features. This article summarizes the most important new features – as always on this blog in greater detail than those on other websites.
Download Mozilla Firefox for Microsoft Windows, Apple macOS and Linux
Support for the new image format AVIF
AVIF stands for AV1 Image File Format and is an image format based on the AV1 Licenseless Video Codec. Similar to AV1 for videos, AVIF also promises consistent quality images Much smaller file sizes from competing formats such as JPG or WebP. For a site visitor, this primarily means faster load times on websites that use the new image format.
XFA PDF forms can be filled out
Since Firefox 81, Firefox's built-in PDF viewer has been able not only to view PDF files, but also to fill out PDF forms – at least if they're AcroForm forms. Firefox 93 also supports the XFA standard for PDF forms.
Automatic emptying of inactive tabs when resources are scarce
Firefox on Windows can now unload tabs and free up RAM in situations where available memory is low. Firefox takes into account many factors such as the time of last use, the RAM consumption of the respective tab or active media playback, so that if possible, any tabs that the user is currently in use are not unloaded. The about:unloads page provides an overview of how Firefox is prioritizing tabs at the moment.
Clearing inactive tabs can reduce the possibility of so-called out-of-memory incidents. This type of crash is one of the most common types of Firefox crashes.
Switching to the unloaded tab automatically reloads it. Any form data and scroll position are automatically entered after Firefox restarts, as is the case with session restoration. This feature will also be available for macOS and Linux in a later update.
Privacy: SmartBlock 3.0
The SmartBlock mechanism was introduced with Firefox 87, which is activated in private windows and in all windows for those users who have activated strict protection against activity tracking, combining privacy and compatibility with the web. Firefox replaces the scripts of known tracking services with some kind of alternative script, ensuring that website compatibility is not compromised while disabling actual functionality. For example, website functions that require Google Analytics can be called without actually being executed and without script errors, unlike without SmartBlock, because Google Analytics is blocked by Firefox.
After Smartblock 2.0 in Firefox 90, Mozilla introduces another improved version of this mechanism with SmartBlock 3.0 in Firefox 93. Support for Google Analytics has been improved and support for Optimizely, Criteo, Amazon TAM, and several Google Ad Scripts have been added.
Privacy: Referrer Protection Improved
The so-called referrer is information about the page the user visited before reaching the current page. This was actually shortened in Firefox 87 for privacy reasons. If the full URL including possible parameters, which may contain sensitive information, has been sent in advance, then the referrer consists only of the domain by default. In Firefox 93, there is another improvement for users who have activated strict protection against activity tracking, as well as in private windows.
Websites can bypass standard referral behavior and thus effectively deactivate Firefox's privacy protection. A website that works with trackers and opts for a more permissive reference policy is still a privacy issue. In the configurations shown, Firefox 93 ignores the least restrictive referrer instructions for cross-page requests, which means the referrer is always defaulted, regardless of the website's settings.
Security: Protects Firefox from unsafe downloads
Downloads sent unencrypted over HTTP using an HTTPS connection to the website are now blocked by default by Firefox. The same applies to downloads in . format iFramedthat do not have the allow-downloads attribute. If the user tries to download the file, they will receive a warning and can either refuse the download or ignore the warning and allow the download.
Security: 3DES encryption is no longer supported
The 3DES encryption algorithm has been popular for a long time, but it is no longer secure. This is why it is no longer supported by Firefox by default. For compatibility reasons, this can be implicitly activated again by activating older TLS versions 1.0 and 1.1.
Security: Closed Vulnerabilities
Also in Firefox 93 it was again Several security holes closed. For security reasons only, it is highly recommended to update Firefox 93 for all users.
Less RAM consumption for developer tools
Mozilla is working on something called Site isolation For Firefox, which will be rolling out to all users between Firefox 94 and Firefox 96. This not only improves security but also improves RAM usage along the way. The developer tools in Firefox 93 are no longer able to significantly free up memory to improve Especially long debug sessions can have about 50 percent fewer memory leaks. More major improvements can be expected in Firefox 94: In the measured scenario, Firefox 94 developer tools have 85 percent fewer memory leaks than Firefox 92.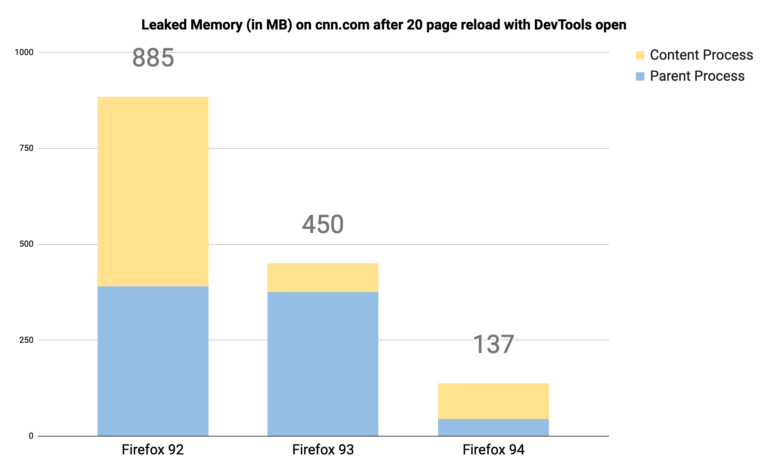 WebRender can no longer be turned off, old wallpapers have been removed
WebRender has been activated by default for all Firefox users since Firefox 91, either with hardware support or in the form of WebRender software. With Firefox 93, there is no longer an option to turn off WebRender and remove old backgrounds seem. This not only makes Firefox several thousand lines lighter, but also allows for more performance improvements in the future, which weren't possible as long as legacy backgrounds had to be supported for graphics.
Users who have graphical issues with WebRender devices can activate WebRender instead of deactivating it by setting the gfx.webrender.software switch to true via: configure and restart Firefox.
More compact checklists for compact mode users
With Firefox 89, Mozilla introduced a new design for its browser called Proton. This also brought a greater view of the bookmark lists, which did not do well with every user. Starting with Firefox 93, Mozilla respects the choice of Compact Mode: Users who have enabled this now have space-saving bookmark lists again.
Web platform improvements
Of course, Firefox supports other web standards again with this update. Firefox 93 also supports input fields of type <نوع الإدخال = "datetime-local">. As always, there is an overview of all the improvements made to the web platform at MDN Web Documents.
Other new features in Firefox 93
The list of access data saved under about: logins now shows the month's addresses in the left column, sorted by last change or last use.
If the "Forget Whole Website" function in the context menu is used to enter the history, Firefox now asks for confirmation instead of performing this action directly.
The download panel has received detailed visual improvements.
macOS users running Firefox directly from the DMG file will be required to complete the installation the first time it runs to avoid losing sessions.
Blinkers now respect the corresponding Windows registry entry or GTK setting under Linux in order to stop flashing after a specified time and not waste CPU power. CPU usage has also been improved when using the large document search function.
There have also been accessibility improvements, especially when working with the VoiceOver screen reader, as well as with the Orca screen reader, which no longer requires switching to another app to work with Firefox after Firefox has started.
Of course, Firefox 93 also included bug fixes and other improvements under the hood.
"Social media evangelist. Baconaholic. Devoted reader. Twitter scholar. Avid coffee trailblazer."