CFA Society Austria, the association of Austrian investment analysts, has been awarded the "CFA Society Austria Prize" for the twelfth time on February 24, 2023. Bachelor's, Master's or Diploma theses and dissertations on the topic "Investments, Banking and Finance" were awarded: This year the award was also awarded with the CFA Scholarship, which Covers all costs of the CFA exams (Level I, II, and III). .
The article will continue after the announcement.
03/21/2023 10:30



30 minutes.



By Tom Morris and Simon Wheeler

the decision
For the proven CFA Society Austria jury, the CFA Award is an important contribution to education and training. 5 members of CFA Society Austria selected the 3 award winners:
First place: Christoph Reichenhofer
Dissertation topic: "Essays on Timing and Combining Equity Factors"
University: Vienna University of Economics and Business, Submission and assessment by a university. Mr. Dr. Otto Randel and Univ. Mr. Dr. Joseph Zechner
Second place: Alexander Mikaelian
Master's thesis topic: "The impact of the Minimum Requirement for Own Funds and Eligible Liabilities (MREL) on the value of EU banks"
University: BFI Vienna University of Applied Sciences, Master: Quantitative Asset and Risk Management, Submission by Prof. (FH) Mag. Christian Chick, MBA, MMag Supervision. John Langthaler
Third place – Julian Staudinger and Manuel Wendell (formerly)
Julian Staudinger:
Master's thesis topic: "The impact of environmental, social and institutional governance factors on financial returns and company performance"
University: Wiener Neustadt University of Applied Sciences for Economics and Technology Ges.mbH, Presentation and supervision by Paul Charles Pudschedl, BA, LL.M.
Manuel Wendell:
Master's thesis topic: "Management Effectiveness and Investment Funds: Where are the 'real' value funds?"
University: Leopold-Franzenz University Innsbruck, Submission by a university. Prof.Dr. Jurgen Huber, Supervising University. Mr. Dr. Jochen Lorenz
Academic Jury
Practical relevance, treatment and presentation, innovative approach and research methodology were evaluated. Only papers written at Austrian universities or technical colleges with a grade of "1" are accepted.
A first-class academic jury conducted the preliminary selection, and students from the Vienna University of Economics and Business were able to submit their own work. These were previously selected by CFA Society Austria:
Prof (FH) Mag. Donald Paley, CAP, CBAP, FRM, PMP, Lauder School of Business
Prof (FH) Mag. Christian Chick, MBA, Deputy Head of the Master's Program "Quantitative Assets and Risk Management", University of Applied Sciences BFI Vienna
Prof. University. Dr. Juergen Huber, Institute of Banking and Finance, University of Innsbruck
Paul Charles Podschedel, BA, MA.Wiener Neustadt University of Applied Sciences for Economics and Technology Ges.mbH
Prof. Dr. University Otto Randlethe person in charge of WU Vienna
Due to the selection made by the selected professors, it is ensured that only outstanding work will be evaluated. The award was presented at a ceremony that coincided with the final presentations of the CFA Institute's Challenge University of Applied Sciences BFI Wien Ges.mbH peace.
Learn more about other CFA Society Austria events: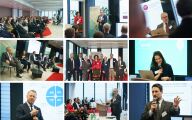 Past performance results do not allow any conclusions to be drawn about the future development of an investment fund or security. The value and income from investing in funds or securities may go up or down. Investors may only pay less than the capital invested. Currency fluctuations may affect investment. Please note the Regulations for Advertising and Offer of Stock in InvFG 2011 §128 ff. The information on www.e-fundresearch.com does not constitute any recommendations to buy, sell or hold securities, funds or other assets. The information on the e-fundresearch.com AG website has been prepared with care. However, there may be unintentionally false representations. Therefore, no responsibility or guarantee can be assumed for the subject matter, correctness and completeness of the information provided. The same applies to all other websites referred to via hyperlinks. e-fundresearch.com AG disclaims any liability for direct, identifiable or other damages arising in connection with the information provided or other available information.
"Total coffee aficionado. Travel buff. Music ninja. Bacon nerd. Beeraholic."