Carbon neutrality means striking a balance between emitting greenhouse gases into the atmosphere and capturing or offsetting an equal amount of these gases. It is often seen as the ultimate goal in the fight against climate change. In order to achieve carbon neutrality, we must dramatically change the way we produce and consume energy Vienna wants to achieve this by 2040. An innovative new project should soon secure the heat requirements of the Floridsdorf clinic by up to 70% – and that with waste heat from the data center!
heat recycling
Starting in the fall of 2022, Wien Energie will build a heat pump system that will be connected to the Interxion data center's cooling system. Interxion operates Austria's largest data center campus in Floridsdorf. This is intended to recycle the excess heat from the server rooms. The pump converts the waste heat into central heating for the Floridsdorf clinic. This is intended to cover 50 to 70 percent of the clinic's total heat requirements. "Through this smart concept, energy is used in the best possible way and we save climate-damaging oil and gas. This is how we can achieve heat transfer," says Climate Protection Minister Leonor Gosler with conviction.
"This is a good-neighborly cooperation in terms of climate protection! Here, unused waste heat is used for climate-neutral heating. The collaboration is a prime example of how we can work together on climate protection in a digital city like Vienna," says Peter Hanke, City Advisor for Economic Affairs. For the future".
The first heat conduction chart in 2023
The waste heat project is being planned and implemented since the fall of 2021. After building the communication line between the clinic and the data center, it is connected to the Interxion cooling system. Meanwhile, Wien Energie is installing three heat pumps, each with a capacity of 1 megawatt, in the Floridsdorf Clinic's energy center. The system extracts thermal energy from approximately 26°C of warm cooling water and uses it to heat the Floridsdorf Clinic to 82°C. The cooled cooling water flows back into the data center, where it is used again for cooling. The plant is scheduled to be commissioned in mid-2023.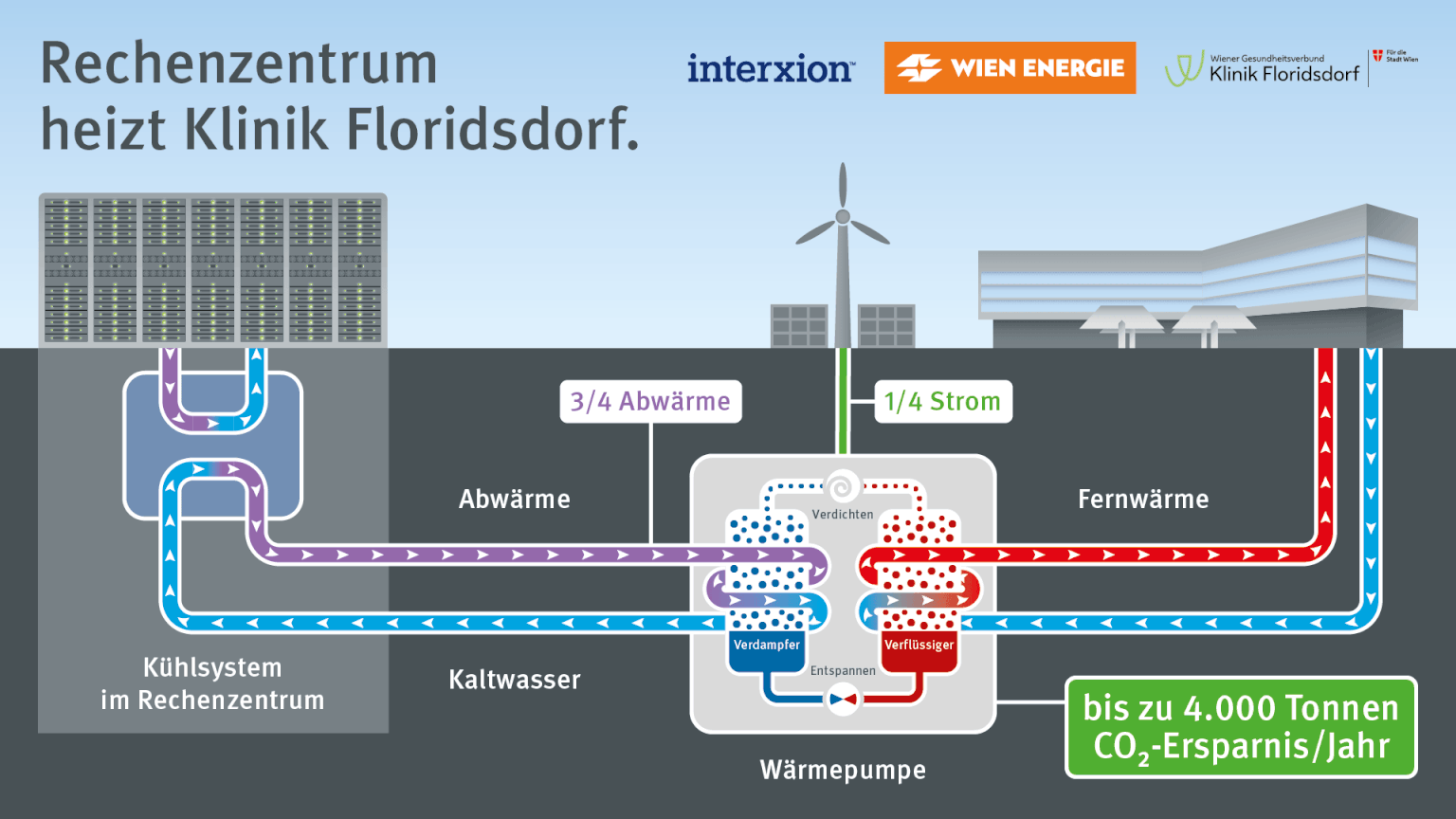 "Total coffee aficionado. Travel buff. Music ninja. Bacon nerd. Beeraholic."