50 years after Tantris opened in 1971, big changes are about to happen. In the future, three concepts will be developed under one roof: the Tantris menu restaurant under chef Benjamin Chmura, the new Tantris DNA restaurant with chef Virginie Protat and Tantris Bar. The listed rooms are still a construction site and will open in October.
The team surrounding Executive Chef Matthias Hahn and owners Tantris Sabine and Felix Eichbauer continue to see the culture of French cuisine in which Tantris and its legendary chefs Eckart Witzigmann, Heinz Winkler and Hans Haas fashioned the idea of ​​fine gastronomy in Germany.
Tentris: Focus on French Cuisine
"We reflect on our roots in French cuisine, on red lobster and black truffles, on pleasure and feel," Eschbauer says. "We focus on our architecture, the seasons, the origin of the food and the people who work with us."
In the future there will be a change of menus at Tantris Restaurant. A kitchen focused on the best seasonal produce. Taste trip. Experience Tantris, at noon in four or six cycles, in the evening at six or eight. Chmura is shaped by classic French cuisine and its deep understanding of the products and their preparation. "I would like to develop Tantris with great respect for its history," says the 32-year-old. "For me, that just includes working with handcrafted food from people I trust and using all of that."
Virgine Protat becomes the chef of Tantris DNA
The new restaurant, Tantris DNA, will be an a la carte restaurant for lunch and dinner. At the same time, it will be a place where we refer to the basic ideas of French cuisine, the DNA of Tantric. With classics like lamb thighs prepared whole on our rotisserie. Brass chicken cooked in pork bladder. And dishes from five decades of tantric, such as the rumour sweet bread have always been classics. They will all bear a woman's signature: from Virginie Brutt, chef at Tantris DNA. The 29-year-old is from Lyon, the cradle of French gastronomy. She completed her training with Chmura at the Paul Bocuse Institute and then worked in famous restaurants in France, Australia and New Zealand.
The Tantris in the listed building by Justus Dahinden in Munich Schwabing, …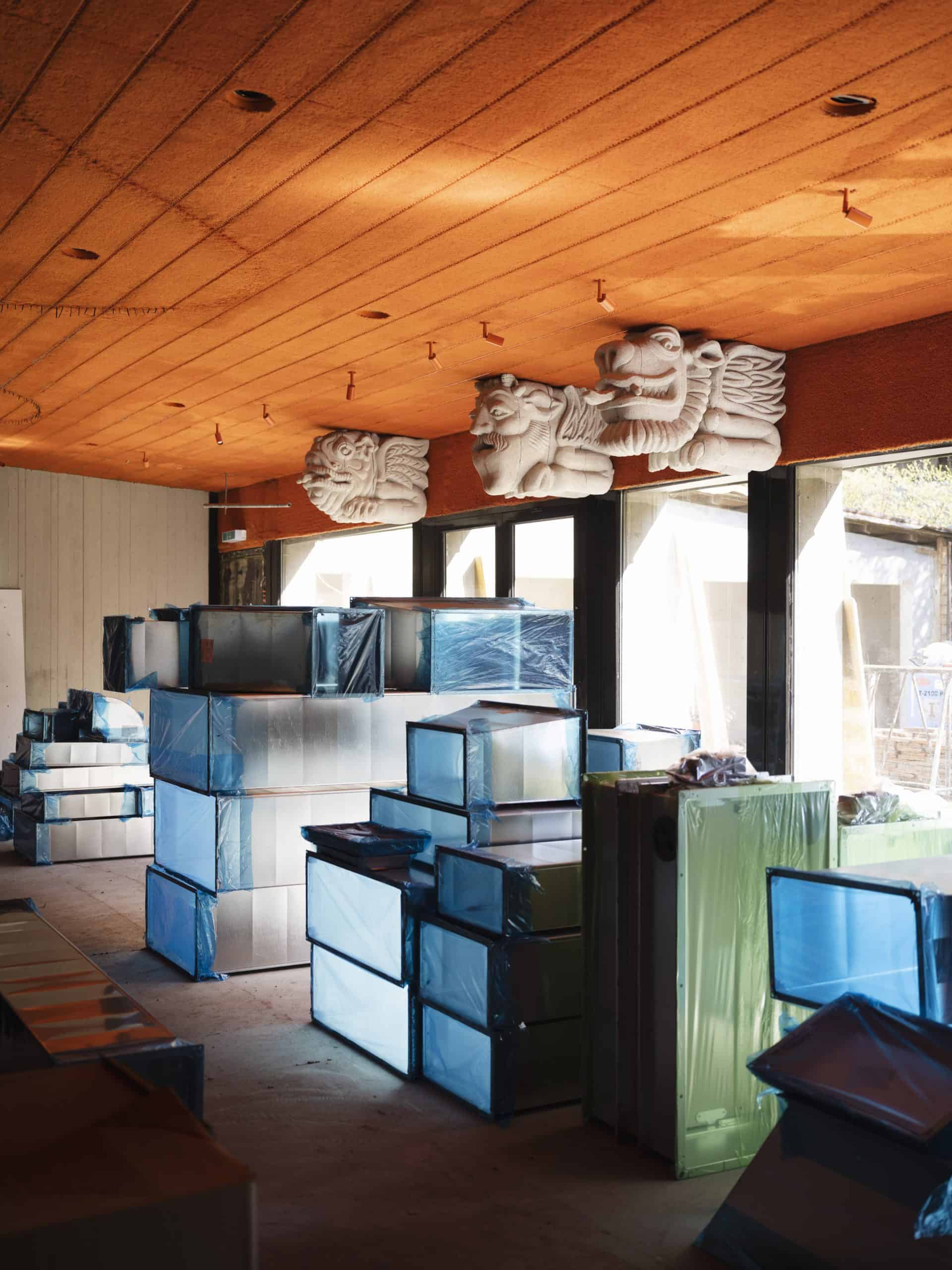 … Now another construction site
Virginie Brutt and Benjamin Schmora share the same kitchen philosophy: helping the finest produce with understanding, craftsmanship and passion to achieve the perfect expression of taste. "What I love about Tantris is this unique universe, a mixture of the joy of life and the art of cooking," says Virginie Brottat. "I really look forward to my job at Tantris DNA to convey the essence and passion of French cuisine."
One team, two restaurants
Two restaurants, which also means: there will be two kitchens, two multi burners, and two aisles. the same products. joint team. Mona Rothig, longtime Service Manager at Tantris Restaurant, will be responsible for the entire service area and training at Maison Tantris. Nicholas Spanier will run the entire wine business as a wine director. Matthew Mermelstein will be responsible as Restaurant and Bar service manager at Tantris DNA Restaurant.
There will be a prep kitchen in the basement, and its own bakery and pastry shop. "More than ever, Tantris will be a factory where many hands are installed, products are processed as a whole and many things are made in-house: bread, stock, chocolate," says Sabine Eichbauer, owner of Tantris.
The inscribed Tantris design will also be able to develop its original effect again after a careful renovation. The entire spatial experience will breathe again the generous spirit of the 1970s. The daytime wine cellar will move into the center of the Tantris restaurant, where barbecues were held. In this way, wine will also take its central role in tantris spatially. At the same time, Tantris Bar regains its importance as a separate space. With the architectural extension of the Tantris DNA Restaurant into the garden, this room will also be as planned by Tantris architect Justus Dahinden: a garden salon.
"Travel aficionado. Certified problem solver. Pop culture guru. Typical writer. Entrepreneur. Coffee trailblazer."