12:43 p.m
Frentzen is back!
Did you already watch the interview with former Formula 1 driver Heinz-Harald Frentzen during yesterday's Sky Germany broadcast?
Since his daughter really wanted to do a Formula 1 race and encouraged her father a little bit to share his memories on social media, he doesn't just own it. Twitter account Reactivated, but also participated in the recording of the official Formula 1 podcast "Beyond the Grid".
I don't know about you, but I'm glad Frentzen is more in the public eye again and I hope we'll see him at our regular channel members' table on Formula1.de YouTube channel Or on the Formula 1 podcast"splash networkGet in. Or both!
---
12:20 p.m
one of the men
Brad Pitt and the crew of the Apple TV Formula 1 movie are in the pit lane, track and field this weekend.
Of course, Pete was also present at the driver briefing, he wanted to take in the whole experience. The pilots loved him, saying he was "one of the guys."
There is more on this in my colleague Robin Zimmerman's article!
---
Filming the new Formula 1 movie in Silverstone
---
12:00 noon
What will the weather be like?
One of the questions that always matters to you on race day is the weather.
Our weatherman Stefan Ellen just conducted it He updated the weather report and wrote me a live index summary:
"Lots of clouds, but it's still sunny at 23 degrees. The chance of rain increases in the second half of the race, but even then it's only 30 percent. And if it rains, it's probably only light. Tailwind On the home straight and headwind on the barn straights at a speed of 20 km/h on average and up to 40 km/h at the top."
---
11:45 a.m
Good eye, good intuition, good engineer
Today, Peter Prodromeo is the man who will be on everyone's lips. The technical director in charge of aerodynamics must have taken a closer look when the RB19 was delivered to Sergio Perez in Monaco.
No, McLaren's MCL60 updates are not a 1:1 copy of Red Bull's, even if Lewis Hamilton claims they have something in common. But it is the result of a good engineering work done by the Greeks.
Why? Find out in Christian Nimmervoll's story!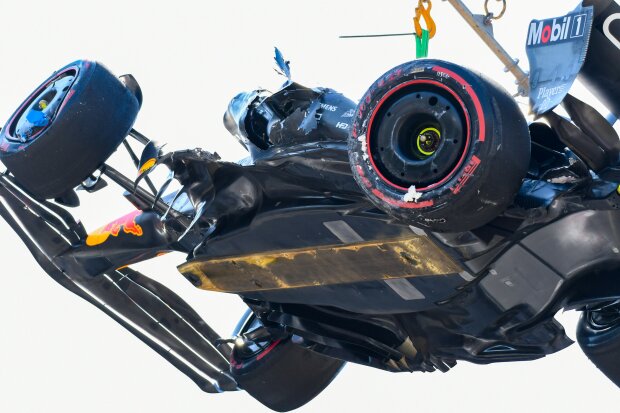 © circpics.de
---
11:27 a.m
Humanity in the F1 machine
Yes, Max Verstappen can also be human and make mistakes like everyone else. Yesterday during qualifying, coming out of the garage, he had "lumpy steering and a little rear axle grip", drove into the pit wall and smashed his front wing.
Freely based on the legendary Leclerc-Verstappen meme: "asymmetric".
My colleague Norman Fisher made a short story about it!
---
11:15 a.m
Damn long!
It is loosely based on the Cologne BAP band and their song "Verdamp so long ago", in High German "Damn so long ago", a fact that really struck me.
For McLaren, it's the first front row start at their home Grand Prix at Silverstone since 2008!
It was then that Heikki Kovalainen, the pole-sitter he had in his entire Formula 1 career, slipped from first to fifth. Lewis Hamilton won.
---
It's 11:00
Tire selection
Strategy can be a very exciting thing today.
Like our data expert Kevin Hermann in his detailed long-term analysis on Friday On the Formel1.de YouTube channel He said there are many strategies that can be quick and successful.
Pirelli revealed to us the combinations of tires available and what they think are the fastest strategies.
---
10:41 a.m
No high hopes
Editor-in-Chief Christian Nimmervoll is known for his down-to-earth approach when it comes to realistically portraying the high hopes of fans like myself.
He took a good look at McLaren ahead of the British Grand Prix and found that it would be very difficult to get on the podium.
You can read his story here!
---
10:29 a.m
Goethe wins!
A short trip to Formula 3, which is always very early on the tracks they participate in.
The first win of the day goes to the German! Well, at least he's racing under the German flag, but he was born in Great Britain, but he has a very famous relative in Johann Wolfgang von Goethe: Oliver Goethe won the main race!
His first win, congratulations!
---
---
09:48 am
Quali analysis
Editor-in-Chief last night Christian Nimmervoll And me On the Formel1.de YouTube channel Provide a special kind of quality analysis.
Because our direction failed, we were "old school" and rather improvised, which we had a lot of fun with. But of course we've carefully worked through Saturday's topics again, starting with the McLaren sensation, but also the little ailments of Max Verstappen, the squabbles at Ferrari on the radio, the 'problem teams' Mercedes, Aston Martin and Alpine and we've got your questions answered.
Grab a coffee and a croissant and look back with us on qualifying at Silverstone.
---
Exciting McLaren: A new ranking in Formula One?
What a rehab session! Is McLaren the new number 2 in Formula 1 after this result? And what was going on between Verstappen and Hamilton? More Formula 1 videos
---
09:41 am
The Offer: Shop Lando Norris Fan Articles Now!
Lando Norris will start the British Grand Prix from second place today. Would he dare attack Max Verstappen in the first corners and take the lead?
If you are in one of the following races and then want to support it, take a look at our races Formula 1 fan shop Stop by and treat yourself to one of the many Lando Norris fan articles.
Of course, other biker enthusiasts also offer a wide range of merchandise, collectibles, and more.
Enjoy shopping!
advertisement
Lando Norris fan merchandise
---
09:38 am
Good morning
Race day at Silverstone!
Kevin Scheuren wishes you all a great morning and hopes you are as excited about the British Grand Prix as I am! I think this is going to be a really interesting race after 4 p.m.
In order to get you in the right mood, I will of course inform you, entertain you, and have fun with you here in the Formula 1 live stream. If you have any questions, please let me know Twitter using the hashtag #FragMST or at Instagram Gets. I am happy to try to answer them.
But now we have a nice race on Sunday for all of you!
"General writer. Twitter fanatic. Award-winning alcohol practitioner. Pop culture guru."