11:48 a.m
Updates here!

Friday is Formula 1's update day and the FIA ​​has just sent us a list of what's new in the cars.
Red Bull: changes to the front brake ventilation
Ferrari: –
Mercedes: front wing and front wing end plate
Alpine: front wing
McLaren: front spoiler, nose, rear brake hole change, rear suspension
Alfa Romeo: lower bodywork, lower outer edges, diffuser, rear brake ventilation change, rear suspension
Aston Martin: Front and rear brake wing ventilation change
Haas: front suspension, changes to brake calipers and front "tire spoiler", bar spoiler
AlphaTauri: lower body, outer underbody trim, rear underbody trim, diffuser, hood, rear suspension, rear spoiler, beam spoiler
Williams: front wing, rear wing
AlphaTauri made the most extensive changes, but this update was also urgently needed. Otherwise many wings, with some bit on the bottom. It can be immediately interesting in the first free practice session from 1:30 pm.
---
12:09 p.m
Lewis problem?
Some of you may have noticed that Lewis Hamilton was late to the official FIA press conference yesterday.
They didn't like it at all and that's why the team representative has to come to the judges at 12:15pm German time and explain it.
Background: There are specific protocols for official FIA events that every driver is required to follow. But if there was a valid reason why Hamilton was late yesterday, a solution will surely be found. The only penalty is likely to be a fine.
I will keep you up to date.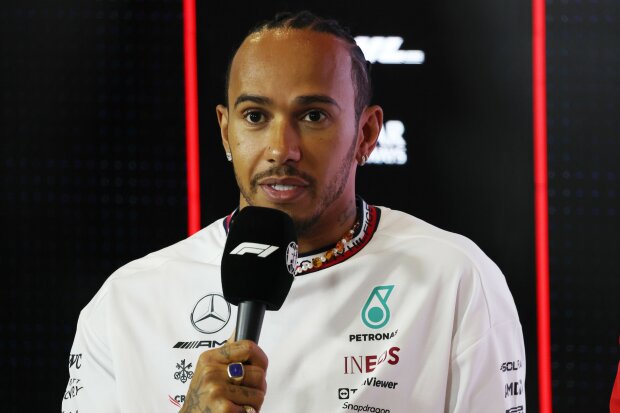 © Motorsport Pictures
---
11:23 a.m
New Alpine front wing
Alpine is bringing in the new front wing this weekend, which should definitely bring the tenth, which is the wish of team boss Otmar Szafnauer.
Albert Fabrega took a closer look at his new grand piano and important changes were made, as you can see right away:
---
11:12 a.m
Who drives APXGP?
Also wondering who the APXGP Formula 1 racer leads between sessions?
Well, me too and that's why I tried to find out and got an answer from FOM:
There are a bunch of professional drivers who will be moving the car around the track and Brad Pitt and Damson Idris may be taking the wheel into their own hands at some point. The names of the professional drivers are not known, nor is whether they are former or current Formula 1 drivers.
There was also information that we prematurely titled the movie "Apex". There is still no name for the Apple TV project, not even a working title. The exact name of the movie will be announced at a certain time.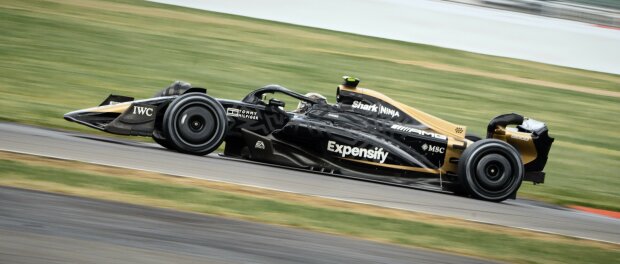 © Scott Garfield, Apple Studios, Formula 1
---
10:59 a.m
It's time to remember
Our colleague Adam Cooper was in a very special place last night.
After Aston Martin completes the move to the new plant, the old workplaces of Jordan, Midland, Spyker, Force India, Racing Point and Aston Martin can go.
Wrecking Ball is coming on Monday. Part of the history of Formula 1 less in this world.
---
10:43 a.m
Mercedes helped
Have you seen an APXGP racer yet? It is a recreated Formula 2 car that has been transformed into a Formula 1-like racer with the help of Mercedes.
There are some juicy details, for example one or the other well-known sponsor, which you can also see on Mercedes. In addition, the paintwork is clearly reminiscent of the old JPS paintwork on a Lotus or Rich Energy Haas.
---
Photo Gallery: The car of the new Formula 1 movie with Brad Pitt
---
10:16 a.m
The best weather and the best mood
Good prospects await us at Silverstone in Friday's practice session. The temperatures are around 23 degrees Celsius in the first free practice session and up to 25 degrees in the second free practice session. Although there were some clouds over the Silverstone circuit on Friday afternoon, no rain is expected. It should stay dry all day.
More information about the weekend weather can be found in our weather report, which my colleague Stefan Ehlen updates regularly.
The atmosphere at the start of the finishing straight was already great yesterday, because the Silverstone circuit was invited to its annual fun competition, the Tire Curl.
George Russell won the thing, so it may still be the Mercedes driver's only trophy this weekend?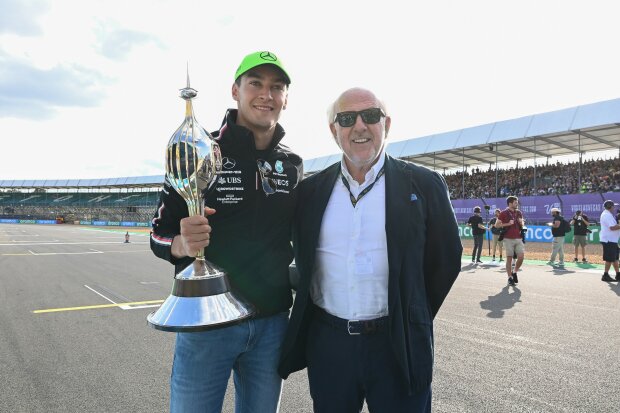 © Motorsport Pictures
---
10:05 a.m
Media day in the past
Yesterday evening, our Editor-in-Chief Christian Nimmervoll and I, as always, Thursday The Formel.1.de YouTube channel Review the media day again.
Hollywood is on the carpet at Silverstone this year. Brad Pitt, Damson Idris, Joe Kosinski and Jerry Bruckheimer star at the track as filming of the Formula 1 movie "Apex" begins or takes place at the track this weekend.
There is a dedicated garage for the APXGP team, there is a lot of fanfare and the drivers are happy that the premier class is getting more attention. Some aren't happy about 24 race weekends in the 2024 season, but Red Bull Powertrains are happy with 60 new employees in one fell swoop and are looking forward to taking a look.
I listen!
---
Thursday Silverstone: Team 11th in the pit lane!
Media Day at Silverstone: Why Brad Pitt was a bigger topic than Lewis Hamilton. More Formula 1 videos
---
10:02 a.m
Training day in Silverstone
Good morning everyone and welcome to the Formula 1 live stream on Silverstone Practice Day.
Kevin Scheuren warmly welcomes you to this sunny day, which, combined with updates from the team, will certainly give us many exciting insights into how these things are impacting and who can take the first step forward.
If you have any questions, suggestions or criticisms, feel free to reach out to me Twitter using the hashtag #FragMST or at Instagram pure. I try to accommodate them as best I can.
In the meantime, treat yourself to a coffee or a cold drink and have a good start to the day!
"General writer. Twitter fanatic. Award-winning alcohol practitioner. Pop culture guru."