Mozilla Firefox 119 has been released for Windows, Apple macOS, and Linux. This article summarizes the most important innovations – as always on this blog in much more detail than on other sites.
Download Mozilla Firefox for Microsoft Windows, Apple macOS, and Linux
Improved Firefox display
With Firefox 106, Mozilla introduced Firefox View about a year ago. This is a page that is accessible by default via a button in the tab bar. This page previously showed both the last three tabs synced from other devices as well as the 25 most recently closed tabs, which can also be restored from there.
With Firefox 119, Mozilla has revised the way Firefox is presented. Only the page layout and the icon in the tab bar have not changed. Firefox View now also includes a list of all open windows and their tabs. Also new is a history tab, which can be sorted by date or website. All synced tabs can now be accessed across it and are no longer limited to just the last three.
This innovation will be gradually rolled out to all users over the coming weeks.
Insert images into PDF files
Sometimes it may be necessary to edit an existing PDF file and place additional text annotations. Drawing on PDF files has also been possible since Firefox 106. Firefox 119 adds the ability to embed additional images into PDF files. Possible use cases for this would be, for example, stamps or signatures on digital documents.
Of course, accessibility should not be neglected either. Therefore, images can be marked as decorative or alternative text can be stored that is made available to assistive technology users.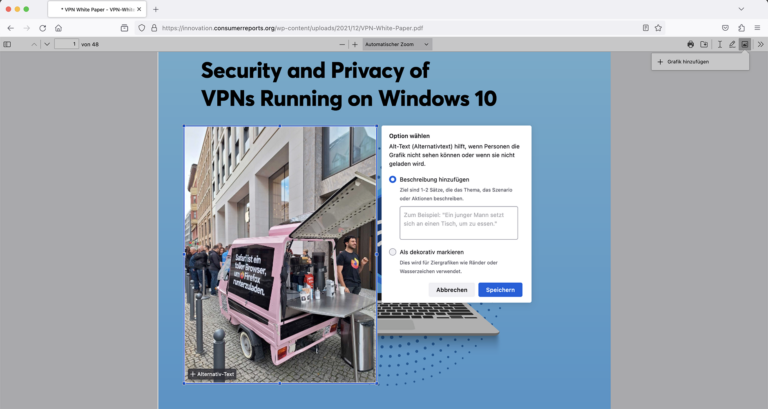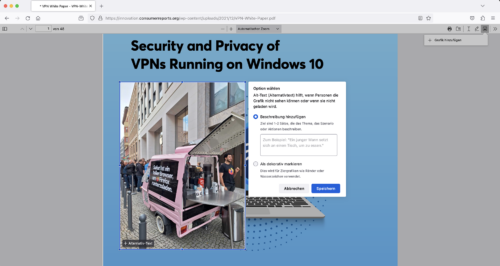 This innovation will be gradually rolled out to all users over the coming weeks.
Import extensions from Google Chrome
Users who move from one browser to another often want to import history, bookmarks, saved passwords, and perhaps other data from their previous browser and not have to create everything from scratch. Firefox also offers this option. New is the ability to import compatible versions of extensions from Google Chrome.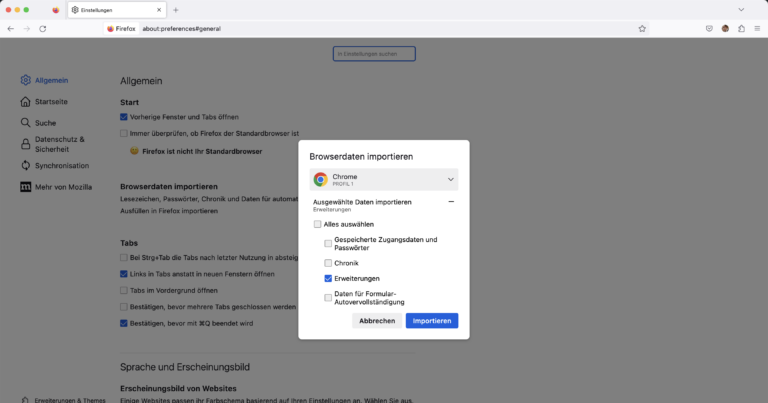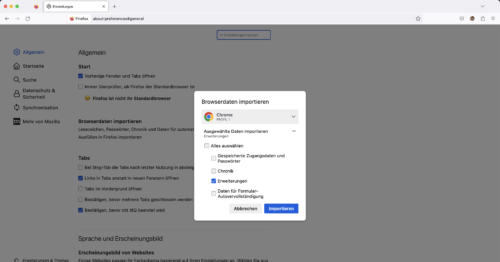 This innovation has been rolled out gradually since Firefox 116 and is now available by default to all users.
Respect the color accent of the Windows tab bar
Browsers like Microsoft Edge or Google Chrome use the Windows-defined accent color set as the background color for the tab bar. On the other hand, Firefox always displays the tab bar grayed out unless the theme is installed.
As of Firefox 119, it is possible to use the accent color for the tab bar in Firefox when using the System theme. To do this, you must switch the widget.windows.titlebar-accent.enabled in about:config to true by double-clicking it.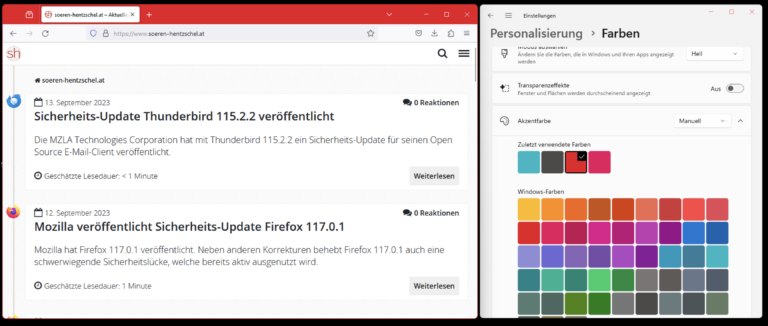 Privacy improvements in Firefox 119
As part of the so-called Total Cookie Protection, Firefox now also supports partitioning Large URLswhich mitigates the potential tracking vector that could be used by third parties to track an individual.
In strict activity tracking protection mode, visibility of website fonts is limited to system fonts and language pack fonts to reduce font fingerprinting.
There have also been improvements Storage Access APITo improve security while mitigating website outages and thus enhancing the removal of third-party cookies in Firefox.
More security for Firefox users
Also in Firefox 119 it was back Multiple security vulnerabilities closed. For security reasons only, Firefox 119 update is highly recommended for all users.
Supported by Hello Crypto Client (ECH) In combination with DNS over HTTPS (DoH), the so-called "handshake" of the website is securely encrypted.
Other Firefox 119 end-user improvements
Since the release of Firefox 118, there has been a translation function for websites, which, unlike cloud translators such as Google Translate, works locally and does not send the input texts to a third-party server. This has been further improved and can now also translate content that is dynamically added to the website after a page load.
Recently closed tabs remain between sessions as automatic session restore is not enabled. Manually restoring the previous session will reopen any previously opened tabs or windows.
In Windows, the mouse pointer now disappears while you type something in a text field if appropriate Windows setup It's activated.
When navigating directly to media files of type application/octet-stream, the Media Finder no longer overrides MIME types, allowing these files to be downloaded rather than played.
When saving PDF files, Firefox always suggests the last used directory by default instead of remembering it by domain.
Google redirect URLs no longer appear in address bar suggestions.
Developer tools improvements
The function that identifies invalid CSS styles has been improved and now supports pseudo-elements such as ::first-letter, ::cue, and :placeholder.
The JSON viewer, which automatically displays formatted JSON responses, now automatically switches to displaying metadata if the JSON response is invalid or incorrect.
The calculated panel of the Inspector tool now also displays the values ​​of selected CSS variables.
Web platform improvements
Firefox's scrolling algorithms have been improved to reduce unexpected jumps that may occur, especially on Facebook.
CSS function attr() Now supports parameter backup. What's new on the JavaScript side is support Object.groupBy, Map.groupBy, String.prototype.isWellFormed() And String.prototype.toWellFormed().
ARIA attributes can now be accessed and set directly via JavaScript. For example, now too buttonElement.ariaPressed = "true" instead of buttonElement.setAttribute("aria-pressed", "true"); supports.
SVG attributes that accept a length unit now support level 3 CSS units. This allows SVG elements to be resized based on font sizes (cap, rem, etc.), viewport (vh, vw, vmin, etc.) or absolute lengths (pixels, cm, etc.).
the Cross-origin inclusion policy Now it supports that too credentialless-Guidance.
More innovations for website developers and browser extensions can be found at MDN Web Docs Read slowly.
"Social media evangelist. Baconaholic. Devoted reader. Twitter scholar. Avid coffee trailblazer."