EA Sports FC 24: A New Era
To put it bluntly: No. Anyone who has followed this game series over the past few years will notice only marginal changes in the individual games compared to their predecessors. HSports FC 24 (Honestly: you'll all call it FIFA 24…) It's no exception, but that doesn't mean it's not worth taking a closer look at the game.
EA's first soccer game without a FIFA license is the first in Europe without Messi and Ronaldo. coincidence?
The problem is: If you are one of those people who play UT mode avidly and have already saved up money to invest large sums in player packs, it won't matter what I write in my review. Anyone who has been gaming regularly for years or even decades knows that casual gaming just isn't worth the hassle. To buy a new game every yearBecause the differences from year to year are simply not significant. Writing a beginner's guide is probably difficult in my opinion because I've been writing since the late 90's I've looked at almost every FIFA game And you don't have an unbiased picture. So I try to look objectively at what can be considered positive or negative in the most important modes, and in terms of FIF…h, EA Sports FC 24 leaves a good impression and what can and should be improved (maybe even for years). .
As usual, the range is impressive:
One of the best leagues in Europe
to the French League 2, the German Third League or the English League 4; From fairly insignificant international tournaments such as Indian and Romanian to
Top leagues for women's teams
From Spain, Germany and the United States of America. Everything was well licensed, except for a few Italian teams: there was no license for Serie A champions SSC Napoli, and Roman clubs Lazio, AS and Atalanta Bergamo. But in Italy, there have often been difficulties with this in the past (or the competition gained exclusive rights) – just think of Piemonte Calcio
Or half of the Second Division with fancy logos and shirts.
The difficulty level seems more moderate to me. Of course you can still play at World and Legendary levels. Anything less than that shouldn't present much of a problem for experienced FIFA gamblers. There are many gaming settings in between Supporting shots on goal, crosses or passes Deactivation/activation, which requires extra concentration in some game situations. For example, beginners can set up shots on goal to automatically go towards goal or passes to simply find the closest teammate. Advanced players may want more control through manual or semi-controlled action options.
AI can also make mistakes sometimes
I haven't noticed any major bugs yet, except that in Volta mode, the player will sometimes want to do a backflip(!) after a shot, but gets cut off in the air and lands safely again. Then there are the distortions that are familiar even in patched versions of previous games, when the player tries to artfully pass the ball halfway through and almost crosses his limbs in the process.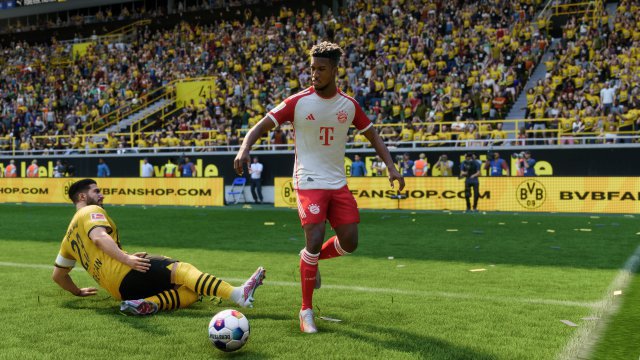 An ill-timed approach can sometimes lead to nothing.
Often times I can steal an opponent's possession by simply taking the ball if I stand tall and start early and strong. This gives me a lot of space quickly and I can create a one-on-one situation. But I can't exactly say if there's a bug behind it that often makes AI defenders look worse during such attacks. And at the same time it is Grills are much more difficult Become. You generally need to time it well so that you don't beat your opponent unfairly or so that he doesn't slip through your fingers.
Overall, I have the feeling that the AI ​​reacts more realistically, which means it makes mistakes sometimes, especially with smaller clubs or weaker opponents. So the goalkeeper sometimes comes out or goes too far A player puts the ball too far forward. In my opinion, the goalkeeper was automatically making saves over the goal or out of bounds during saves. Balls are now often deflected forward or sideways without immediately rolling out of bounds, giving the attacking player a second chance every now and then.
"Social media evangelist. Baconaholic. Devoted reader. Twitter scholar. Avid coffee trailblazer."